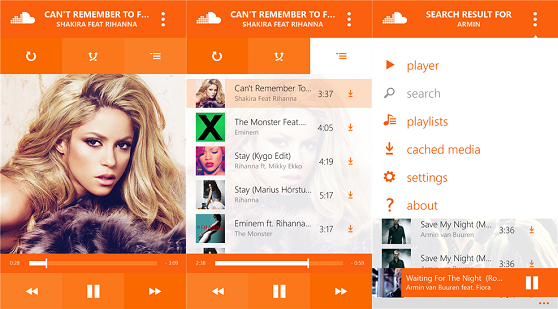 Best SoundCloud client for Windows Phone!
Client for SoundCloud app from the Windows Store allows you to search and listen to music from SoundCloud music service!
You will be aware of all the most popular novelties in the world of music, as well as you can create your own list of favorite audio tracks.
All music from SoundCloud is always available on your Windows Phone!
App features:
– Search for music on SoundCloud.
– Listening to music on SoundCloud.
– Adding tracks to playlists.
– Ability to follow the new and popular music.
Listen and Enjoy with Client for SoundCloud!
With this cool app your life will be brighter and more colorful!
Use SoundCloud service to listen to the best music also on your tablet or PC running Windows 8.1. Try Player for SoundCloud in the Windows Store!

Welcome to SOUNDCLOUD!
Due to the problems occured in the Windows Store this app is not available now. We apologize for the inconvenience. We are working to resolve this problem. For more informations you can contact our support team: support@uneta.ua